What is Google Remarketing? How Does It Work?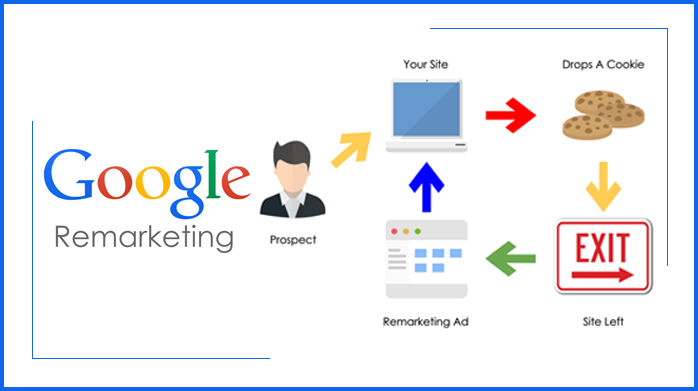 Remarketing is an online business strategy of serving ads to the users which have already visited your website. If you are seeing the same ads again and again, no matter which website you are on, that's due to remarketing. Google remarketing is simply remarketing done with Google AdWords.
The basic idea behind remarketing is to reach the customers which have already visited your website, that means they are interested in availing your services and with a bit of push they are likely to come back and convert that visit into a transaction. The user will be encouraged to buy from the website by showing them different ads on different websites they visit. The most popular remarketing tool at present is Google AdWords.
The complete remarketing strategy can be narrowed down into three basic stages:
First, the user visits your website, he either buys something or he just browses and leaves.
Secondly, the user is tagged with a cookie and the details are added to the remarketing list.
You launch a marketing campaign to show ads to those users.
Now the remarketing campaign can be made to target different users depending upon their behaviour on the website. You can divide customers into three different pools on this basis and launch your campaign to target any category as per your strategy.
The users who just visited your website and left.
The users which stayed at the website, browsed through different pages but due to some reason didn't make a transaction.
Existing customers who have bought from you in the past.
How Remarketing Really Works?
If you are using Google AdWords then you just need to add a remarketing tag with it and you are good to go. Remarketing tag is nothing but a line of HTML code which is inserting with the body of all the pages. This will help you to show standard ads to the users which have visited your website by using the cookies.
You can also make a remarketing list and personalise which users you want to target. You can target users who visited any specific page or section of the website.
PPC marketing is one of the best paid-marketing tools but to use it to its fullest you need expert help. SEO Services India is a retargeting advertising company in Delhi which will help you to get better results through Ad Words re marketing.
Being an established name in the market, SEO Services India will provide the best conversion through re marketing campaign Ad Words.
Published on
October 10, 2018
By
SeoServicesIndia


Categories: