5 Doubts About Seo You Should Clarify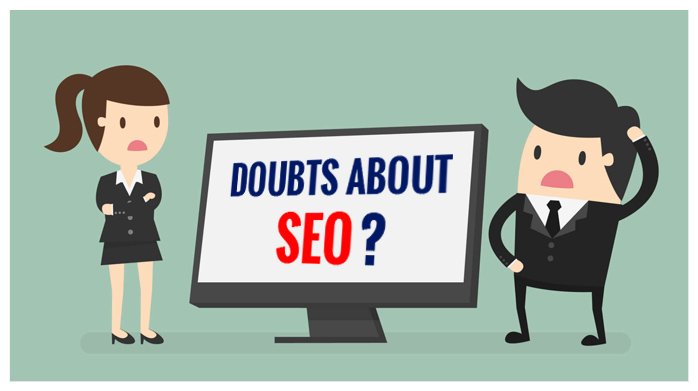 SEO is nothing new to the digital marketing platform and has been utilized by all the top companies for website promotion on the Search Engine Result Page and get better traffic. There are several SEO doubts which need to be addressed and clarified.
Doubt 1: How to use Keywords in content?
Google adores good content and if you want to rank better on the Search results, good content is a must. Now there is another question of using keywords in your content. If you are trying to use keywords just for Google and not human then you can see the negative impact. You should emphasize on creating content for the customer and use keywords wisely in your meta description.
Doubt 2: More links or More Content?
Google keeps updating its algorithm to rank website and with new Google's algorithm updates (Panda, Penguin, and Hummingbird), Google has made it clear then you can't improve your rank just by adding a lot of links. The quality of the links back to your website will also play a vital role, hence, along with adding quality links, you must invest more time in improving the content on your website.
Doubt 3: Is SEO all about fooling search engine with a collection of neat tricks?
No, No and definitely NO. If you are just trying to fool the search engine with a bag of tricks then, in turn, you are fooling your users as well. And even if you manage to get a surge of traffic, in the long run, you will suffer because you didn't have any means to the end. SEO depends upon a lot of different factors and if somehow you manage to use some to rise in ranks, ultimately you will suffer to keep up.
Doubt 4: How XML Sitemap helps your website?
If you want to create a crawl able website then XML sitemap is a must-have for you. So the question is, Does XML sitemap helps to boost your rank on search results. To which the answer is- Directly- No, Indirectly- It may. XML Sitemaps aids Google to find and index the web pages you want to be indexed first. With indexed URLs, your website will be more visible which can help you rise through the ranks.
Doubt 5: How long it takes to rank high on Search Engine Result Page?
SEO is a long-term process and if you think that by availing SEO services from the best SEO company, you will rank in the top 10 overnight. That's not gonna happen. It will take time and cleverly devised strategy to rise through the ranks.
You will see the results with the best search engine optimization company but you have to be patient. Search Engine Optimization services will take time to get you to high rankings, it never going to be happening in a day, week or even a month.
These doubts and many more like these will always be an obstacle in your path because of which you won't be able to utilize the full potential of SEO. So, the best solution for you is to leave this to digital marketing experts, SEO Services India has done a remarkable job in exploring the extents to which SEO can help you and can do wonders for you in digital marketing. With a dedicated team of experts, SEO Services India always delivers the best result for your brand.
Published on
August 10, 2018
By
SeoServicesIndia


Categories: