SEO Practices To Stay On Top Of Google 2019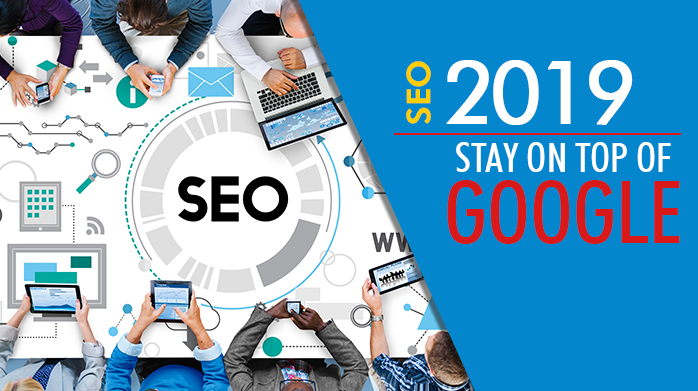 The future of business lies with digital marketing. New trends and the rise of e-commerce have turned offline marketing obsolete. And of course, the stepping stone for digital marketing is SEO or search engine optimization.
It is the technique to include keywords into your web content in an efficient manner so that when a user searches for a particular keyword, the site related to it rises to the forefront of the search results. This ensures guaranteed traffic to the website at the top. So, targeting Google is a smart choice as it is probably the most used search engine.
Latest SEO strategies are a little different from what they had been when digital marketing had first started, so following these little tips are bound to help one stay at the top form-
Optimize for voice trends:  Google has fast Natural Learning Programming algorithms that mold according to unique searches made every day. Voice searches with personal assistants on mobiles are the latest trend, and NLP can improve search results based on content refinement and semantics.
SEO content has to be developed keeping in mind the conversational and long tail queries in mind, with keyword lists updated.
Optimize for local searches:  Searches related to local terms have become very common. Most users search for short and immediate results of services and products near them, and SEO services that optimise content for keywords that include terms like 'near me' do better in search results.
PPC campaigns: Instead of organic traffic, one can pay the search engines to sponsor their site and pay-per-click. So, every time someone visits your page following sponsored links, you pay the search engine a fixed amount bid previously. This is a faster but more expensive way of obtaining more visitors.
AMP implementation:  Accelerated Mobile Pages or AMP is a tool developed by Google to generate lightweight, mobile-friendly versions of web contents that load faster in smartphones. Since most searches are made in phones now, it helps to target Google tools like AMP and optimizing for RankBrain (Google's Machine Learning AI system).
Staying on top of one's game on Google isn't all that difficult, it only needs the right hands and experience. As the best SEO Company in Delhi, we have the best professionals and experts to optimise your content for you.
Published on
February 15, 2019
By
SeoServicesIndia


Categories: